BOLD PERSONAL STYLE TAKES LA PHOTOGRAPHER MONIQUE JONES'S CRAFT TO NEW HEIGHTS
Spring always feels full of promise, and this year especially so. It's a chance to change for the better and positively impact the world. No one embodies that metamorphosis more so than Los Angeles-based photographer Monique Yvonne Jones. While we're all familiar with the selfie by now, Jones has elevated the popular practice to a veritable art form, reimagining self portraiture for the social media age. That precise hustle and ingenuity is exactly what SOREL is celebrating this season by spotlighting style experts whose work inspires and empowers those around them.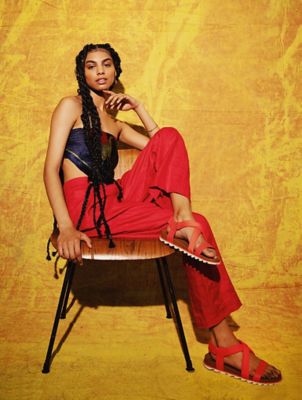 HOW LA DESIGNER SONJIA WILLIAMS IS SHIFTING THE STYLE CONVERSATION FOR
THE BETTER
Though spring doesn't technically begin until a few months into the new year, it feels much more indicative of a brand new start than the weeks preceding it. New opportunities line the horizon, and suddenly we find ourselves encouraged to visualize our goals, get moving, and aim for the gold. If there's one person who knows the power of the hustle, it's Sonjia Williams. The Los Angeles-based fashion designer, and Project Runway alum, built her business by herself, from the ground up. Through her line, Something By Sonjia, Williams helps women feel strong and confident as they navigate through the world.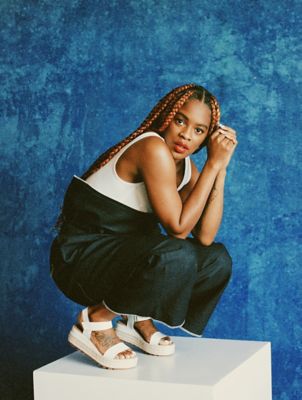 TIFFANY REID IS STEPPING CONFIDENTLY TOWARD HER GOAL TO IGNITE POSITIVE CHANGE
SOREL's new campaign 'New Hustle, New Heights' highlights those who are taking up space, owning their narrative, and pushing their respective field to new levels. The fashion world specifically, over the last decade, has shifted its stance on global events that directly (or indirectly) impact the progress of the industry as a whole. Tiffany Reid, VP of Fashion for BDG and Executive Board Member of the Black in Fashion Council, has been able to see that shift take place in the style community.